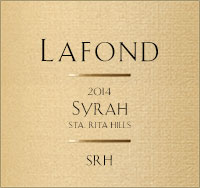 Lafond Syrah Sta Rita Hills
Syrah
Regular price $19.99 Special Pricing
...
All orders need to be picked up in Greendale, Wisconsin.
We do not ship.
...
"
The Santa Rita Hills is a small appellation at the western end of the Santa Ynez Valley that has gained national recognition for its Pinot Noir, Chardonnay and Syrah. 
The Valley runs west to east permitting the late afternoon ocean fog to roll into the Santa Rita Hills, where it lingers until early morning. The surrounding hills trap the fog before it is dissipated in the wider Santa Ynez Valley. 
In the spring when frost is our biggest concern a layer of fog over the vineyard can provide protection. In the summer the fog moderates the normally warm days of the valley, cooling the grapes at night. Warm days and cool nights are what gives our Santa Rita Hills Syrah its spicey rich complex flavors. 
Our grapes are picked at night so that when they are processed in the morning the temperature in the fermenters can be quickly dropped allowing the maximum extraction of flavor. "