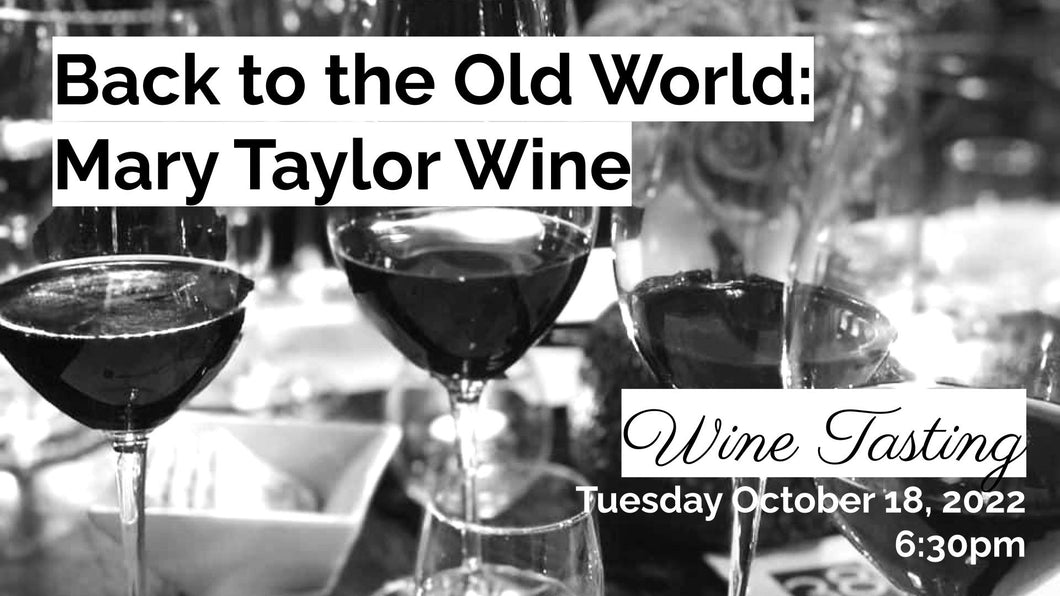 Back to the Old World: Mary Taylor Wine Tasting 10.18.22
Vintage 38 Wine Merchant
Regular price $0.00 $35.00 Special Pricing
...
All orders need to be picked up in Greendale, Wisconsin.
We do not ship.
...
Join us Tuesday evening, October 18th for our next wine tasting... 
Back to the Old World: With Mary Taylor
We are very excited to be hosting wine tastings again!  Our first one back last month was a blast and we are looking forward to hosting a very special evening with one of our favorite Wine Importers, Mary Taylor.
Mary Taylor is way more than a wine importer, she is bringing us real old-world wine, made for real people, from real family winemakers in France, Portugal, Spain & Italy.  Her approach is unique - she develops relationships with these family wineries making wine for their local villages that embody the micro-appellations that we've rarely heard of.  It's a complex system in the old world, but this system produces wine that is utterly unique and expressive of the region, cuisine and traditions. She imports these wines under her own label, Mary Taylor Wine (see the white labels around our shop!) -- we've been long time supporters and enthusiasts of her vision.

We are very excited to have Mary join us, and tell us more about her relationships and taste these wines with her.  
About Mary Taylor:
https://www.nytimes.com/2021/10/07/dining/drinks/mary-taylor-wine.html
You'll be treated to all Mary Taylor wines and a small snack of cheese, prosciutto & Marcona almonds.
Please reserve your seat in advance as these events tend to sell out. 
Tuesday October 18, 2022
6:30-8:30pm
**Respond to your order confirmation if you would like to be seated with other confirmed guests**
**Please refrain from wearing perfume and cologne**
There will be a limited number of seats for this first tasting, as some of our dedicated friends have held their seats from our cancelled wine tasting in March of 2020.  If you are one of these people, please Contact Us to us to confirm you'd like to attend this wine tasting by noon Thursday, October 13th.  At that time we will release your seats and you can select a different upcoming wine tasting to attend (see below for dates).
Save the date for these upcoming wine tastings!  Details, theme and ability to reserve coming soon. November 15th + December 13th