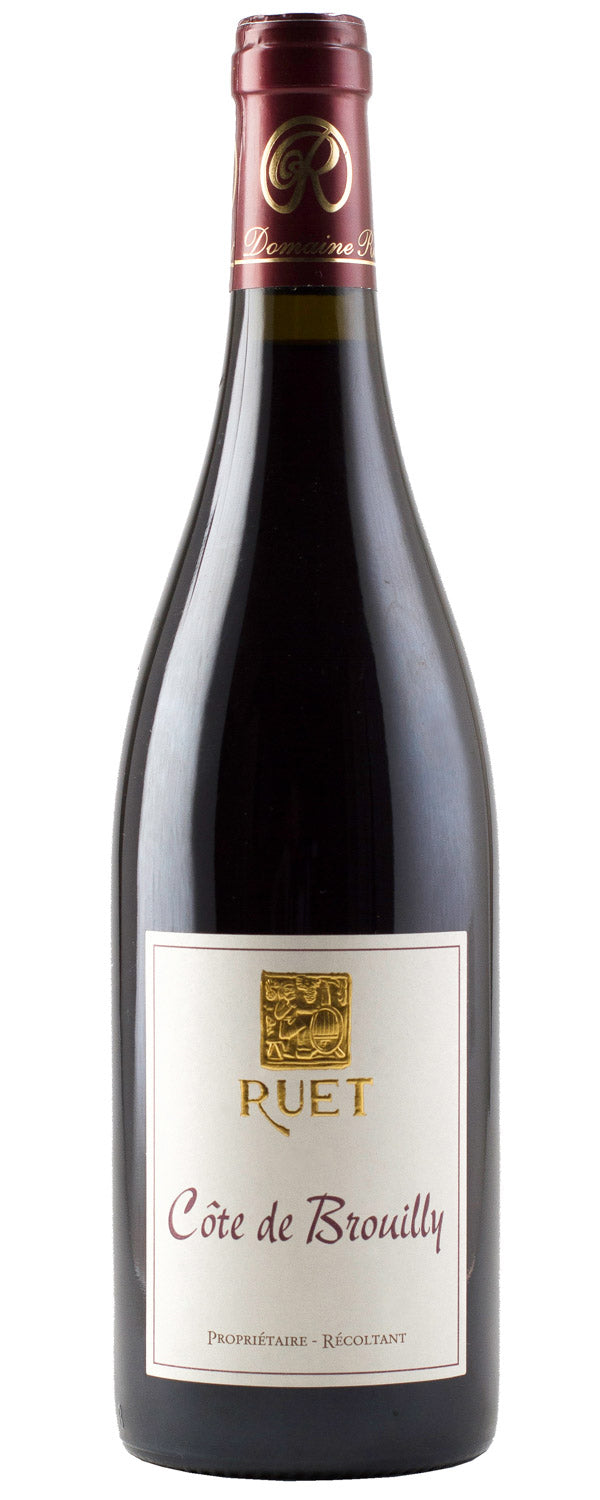 Domaine Ruet Côte de Brouilly, 2015
Gamay
Regular price $0.00 $19.99 Special Pricing
...
All orders need to be picked up in Greendale, Wisconsin.
We do not ship.
...
From the importer:
The Ruet Family Estate Winery has sat on the remarkable terrain of Voujon in Cercié-en-Beaujolais at the foot of Mont Brouilly since 1926. It spreads over superb south-facing slopes where you will find the shallow, granite and stony soils that characterize the Northern Beaujolais region. This traditional winery is focused on parcellaire wines–the serious direction in which we believe Beaujolais is headed. From Morgon they make "Douby" and "Les Grands Cras," from Chiroubles is "La Fontenelle" and from Brouilly is "Voujon." Rather than importing their Beaujolais-Villages, we have instead chosen to work with their Régnié to serve as our entry-level wine. Additionally included in our lineup is a very compelling Crémant de Bourgogne that is 100% chardonnay with zero dosage.
Domaine Ruet holds fast to the tradition of semi-carbonic maceration, employs integrated vine growing techniques and have harvested their vineyards by hand for over four generations. The wines are on point, each exhibiting the characteristics of their respective Cru and furthermore, the distinctive terroirs within. We were blown away on our recent trip to Beaujolais to discover the intricacies of each Cru's soil composition, as they are much more fascinating and complex than most tend to acknowledge. Domaine Ruet is the perfect estate to promote education on the unique subtleties amongst this region's terroir–and at affordable prices! We could not be more stoked to have this estate in our book.
The Côte de Brouilly boasts higher elevations, comparable to those of Chiroubles, and therefore shares a similar elegance while remaining intense and powerful due to it's distinctive blue granite soil composition. Blueberry and iris notes are the take aways here.
Vintage: 2015
Variety: Gamay
Country: France
Region: Beaujolais
Appellation: Côte de Brouilly
Orientation: South
Soil: Blue granite of porphyry
Farming Practice: Organic
Vinification: 50% stainless, 50% neutral 2500L barrique
Elevage: 9 months barrique
Alcohol: 12.96%
Acidity: 3.75 g/L
Bottle Size: 750 ml
Wine Type: Red
Suggested Retail Price: $21.99