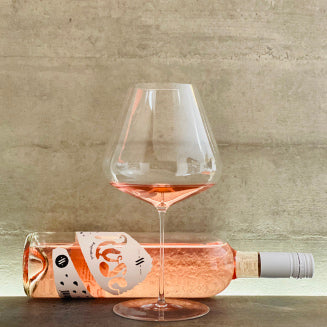 2020 Matic Rosé of Blaufrankish
Blaufrankisch
Regular price $14.99 Special Pricing
...
All orders need to be picked up in Greendale, Wisconsin.
We do not ship.
...
from the importer:
This rose made from 100% Blaufrankisch, known in Slovenia as Modra Frankinja, has a soft pale pink color. The nose of this wine reflects scents of meadow flowers, fresh strawberries and raspberries, and in the back of your nose you'll find hints of honey. The palate comes alive with off dry flavors of red fruits, those strawberries and raspberries come to life, cherry notes present as well. The finish completes with mineral nuances and a light salinity before the acid cleanses your tongue. This modern styled rose is sure to be your summer favorite. It has Matic's signature all over it.
*****
Coming from the predominantly white wine region of Štajerska, the extreme northeastern portion of Slovenia (near the borders with Austia and Hungary), MATIC WINES is Matija Žerjav, known simply as Matic to his friends and family. Matic chooses to farm his 9 hectares of land using all organic and biodynamic methods. He prefers these methods less because of the fashion of natural and organic winemaking and more because he firmly believes this is how wine should be made. He wants his children to be able to play in the vineyard and someday, should they choose, he would be happy to see them follow in his footsteps and farm the same land, hills, and valleys which he farms.