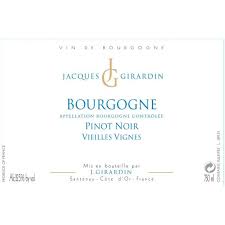 Jacques Girardin Bourgogne Rouge "Vielles Vignes"
Pinot Noir
Regular price $0.00 $22.99 Special Pricing
...
All orders need to be picked up in Greendale, Wisconsin.
We do not ship.
...
Bourgogne Pinot Noir "Vielles Vignes"
This red Burgundy is made from 100% Pinot Noir grapes from the Santenay commune.  This wine shows a great finesse with a lovely aromatic palate.
Average age of the vines
50 years

Maturation
12 months - half in oak & the other half in tank, blending before bottling.

Tasting notes
A wine to be drunk on its fruit & freshness
The Girardin family has been in Burgundy since 1570.

Valérie & Jacques (12th generation) & their son Justin (13th generation) head a 17 hectare domaine which goes from Santenay to Savigny les Beaune, passing through Chassagne Montachet and Pommard.
The philosophy is simple – let nature express itself to the maximum, while watching over and respecting the land.

So the wine becomes a living product, the fruit of an exceptional land and of an age-old expertise which is renewed and modernized with each generation.
Ageing
Half in French oak barrels and half in tanks
Origin of wood: Allier and Vosges
Wine remained 12 months in barrels and in tanks : blending before bottling
Viticulture
Pruning style: Guyot simple and Cordon de Royat
Manual harvest
Green work (de-budding, leaf-thinning,…)
Triple sorting: in the vineyard (twice) and in the winery on sorting table
Winemaking
The grapes are destemed, put into vat at 12°c during 5 days (cold pre-fermentary) to extract the primary aromas then heat at 18°c to start the fermentation.
During fermentation, the temperature is monitored so that it is around 26 °c with a pick at 30°c. Fermentation lasts 15 days.
Indigenous yeasts.
We practice rare pigeages (to break the preferential paths of grape juice) but we practice several pumping per day (depending on the progress of the fermentation).
The choice to limit pigeages in favor of pumping allows us to extract the tannins more smoothly to obtain wines while delicacy and finesse.
Smooth extraction respecting the grape variety, terroir and vintage.
Then the must goes into a pneumatic press where pressure control is essential to avoid extracting tannins from the seeds.
Maturing
Static racking, placed into barrels or into tanks
The malolactic fermentation is performed in barrels( or in tanks) with ageing on fine lees
No sticking, just slightly filtered before to bottling according to turbidity.
Bottling in favorable lunar day.
Serving suggestions
Fresh and elegant nose
Red fruit aromas. Supple wine, lightly structured, fruity and fresh.
Wine pairings: White meat, poultry, pies, light cheeses.