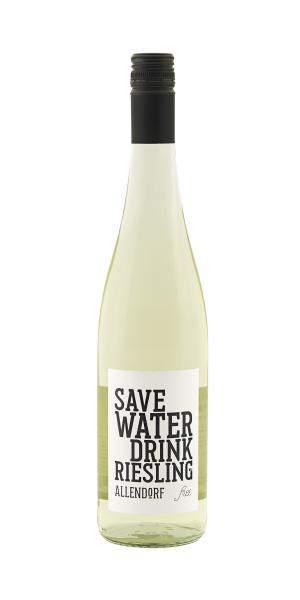 Save Water Drink Riesling "free"
Alcohol Free
Regular price $16.99 Special Pricing
...
All orders need to be picked up in Greendale, Wisconsin.
We do not ship.
...
Allendorf "Save Water Drink Riesling" alcohol-free wine
ALCOHOL FREE
Dry, crisp and light in style.  Not sweet.
From Allendorf Winery:
THE WINE
The alcohol-free version convinces with fresh
Citrus flavors with a balanced sweet-acid balance.
THE VINEYARD
The vines for this wine are grown on classic Riesling soils that guarantee perfect ripeness.
THE IDEA
Riesling enjoyment for everyone who wants to celebrate without alcohol.
Thanks to a gentle dealcoholization, that remains
Riesling typicality preserved.

THE SUPPORT
Must not be missing at any party. As a spritzer, in a wine cocktail or just like that.